100 Yea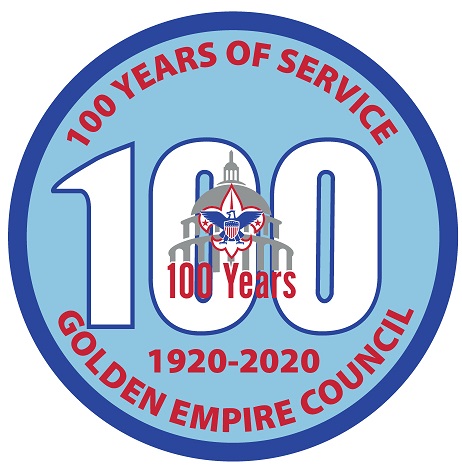 rs of Service Day, Saturday October 24th, is a unit planned, family-based service project to celebrate the 100 Years of Service the Golden Empire Council has provided to Northern California. Units should identify a service project to be completed as individual families with each family contributing a piece of the overall project. Some examples of service projects are listed below. Please remember to always follow Youth Protection guidelines.
Food collection: Families could bring food collections to a unit adult leader who will count the items and take to a local food shelter. Since Scouting for Food was essentially cancelled this year, this could be a great make-up.
Blanket/coat drive: Collect blankets and other warm weather gear, bring to a unit adult leader who will take them to a shelter or a homeless service organization.
Animal Shelter assistance: check with a local animal shelter and see what animals might need fostering, or what kinds of donations (food, towels, blankets) would be appreciated.
Do a family fall cleaning event. Go through household items that can be donated to a local charity, such as Good Will. Do you have toys that you don't play with anymore? Donate them.
Send a "thinking of you" video or email to a local nursing home. Call a nursing home to find out the logistics of sending such messages. Record a message and let them know you are thinking of them (follow Youth Protection guidelines) when communicating.
Toy drive: bring a new unwrapped gift to an adult leader for donation to a local charity.
Social Outreach: Contact your Charter Organization, get a list of those they serve who have limited social contact. Call/skype/facetime them. Ask about their childhood, their first car, where they grew up.
Do a neighborhood/park trash pickup with your family, coordinating time with the rest of your unit to cover a larger area.
Make a Family Appreciation ("thank you") Card to send to a local first responder unit (hospital, Fire Dept., EMT). Parents can work with youth to write a card that can be sent to local first responders of your choice.
Unless the service project requires an activity uniform (Class B), we encourage all Scouts and Scouters to wear their field uniforms (Class A) for their service project. We are hopeful that we will see many GEC Scouts and Scouters in uniform doing great service all throughout the Council on October 24th.
GEC Centennial Quest and Camptober both include participation in the 100 Years of Service Day as one of the choices for these great events. A single service project will count for both the Centennial Quest and Camptober programs - no need to do two service projects. There will also be a service project opportunity at Spook-o-Ree for those that are participating at this first annual Cub Scout event on October 24th.
To register for any of these other great opportunities, please use the registration links below:
Centennial Quest (all ages)
Camptober Around the Big Top (all ages)
Spook-o-Ree 2020 (Cub Scouts and families)
Please use the GEC website (100 Years of Service Day) to log your service project, e.g., type of project, unit involved, number of participants, etc. Also, please send any photos you take of your project to Socialmedia@gec-bsa.org for public posting on our social media sites (identify your project and unit), so we can highlight our Scouting service spirit to the community. Click here to submit completed project information by October 31st.
Remember, our goal is to display our 100 year tradition of service to our local communities. While we know that this is simply a continuation of our "Do a Good Turn Daily" slogan, we are excited for the opportunity to showcase our rich history in Northern California by doing community service at the same time on the same day in our Field Uniforms (Class A).
Contact Charles Potter at Charles.potter@cdtfa.ca.gov if you have any questions or comments.
Thank you to everyone that participated in our 100 Years of Service Day! To download your completion certificate, please click here.